Let us help you find work
If you're looking for work in Wales, the Work and Health Programme Job Entry: Targeted Support service can help you.
Our support is quick to access, free to use, and matched to your needs.
We can help you to:
Learn new skills
With our sector training and online tools
Build confidence
With CV, interview and careers advice
Find a new job
With access to vacancies in a variety of sectors
If you're 16+ and can answer 'yes' to both statements, then we are here for you:
I'm unemployed, want to find work and have been receiving benefits for more than 13 weeks.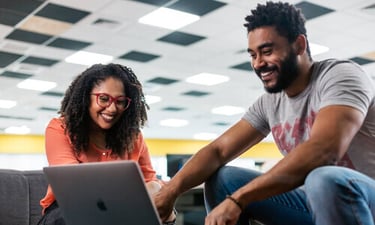 Call us today on 0300 456 8161
Speak to your Jobcentre Plus Work Coach.
Work with us
If you are an employer, visit our dedicated partner portal to find out how we can help with your recruitment needs.
If you would like to work with us, join our Community Partnership Network by visiting https://www.maximusuk.co.uk/CPN
We've already helped thousands of people

like you
"

I really was at a low point. but since meeting with Julie, she helped me from the get go, from building my confidence up to start looking for jobs. I've achieved my

dreams,

and I can finally say that it was down to the help and support of Maximus.

"